OVER 30 YEARS OF EXPERIENCE AS A BARRIER-FREE TRANSPORT DRIVING SERVICE IN VIENNA
Since 1986, hallermobil has provided specialised barrier-free transport services for people with special needs, handling everything from passenger transfers and patient transport to messenger services and leisure excursions.
Our company sees itself as an indispensable and integral part of the social structure of our society, providing barrier-free mobility for anyone who is unable to use public transport due to disability, illness, injury or age-related restrictions and to whom private mobility is not available.
OUR DRIVING SERVICES
hallermobil is your driving services specialist for driving services and provides individualised mobility solutions for every situation. We have more than 122 vehicles and our drivers bring everyone safely where they need to go.
Barrier Free Care Hire
Are you looking for a car rental company to book an accessible car? The cooperation between Hertz x hallermobil makes this possible!
Your accessible rental car can be conveniently ordered online or via call through our partner Hertz. This way you will be able to reach your desired destination with your family, friends or acquaintances without any barriers. The modern VW Caddy is particularly versatile and offers the greatest possible comfort for people with disabilities. With additional grip holders, a fold-out wheelchair ramp and much more, the rental car offers many options to ensure a safe and pleasant journey for you.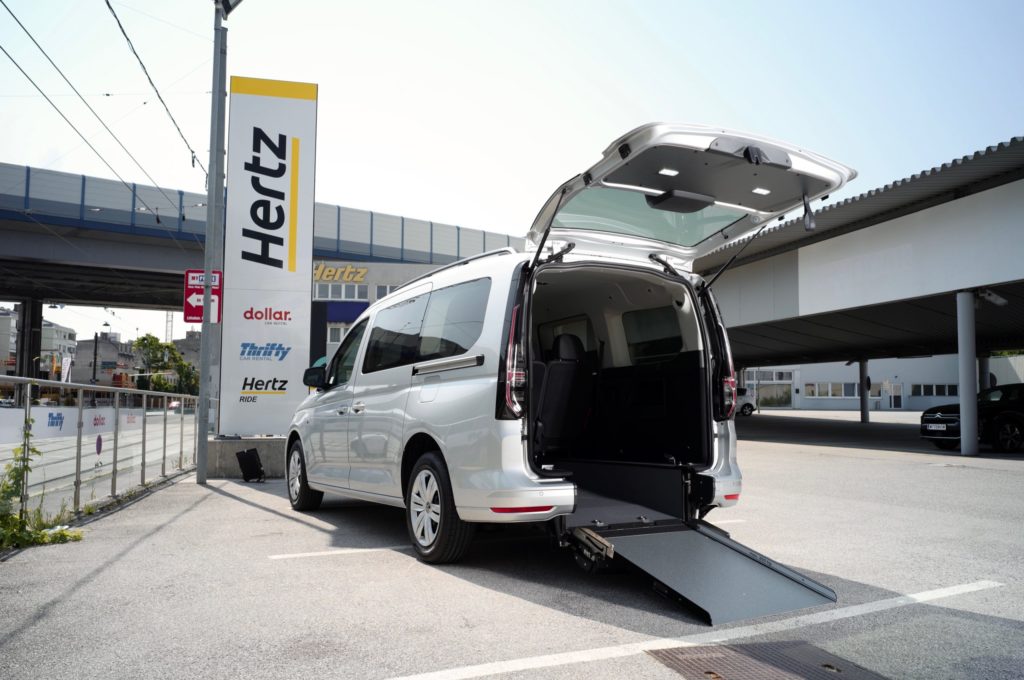 VIP Shuttle
hallermobil offers discreet and especially comfortable travel services for spas, rehabilitation, to the doctor or to hospital.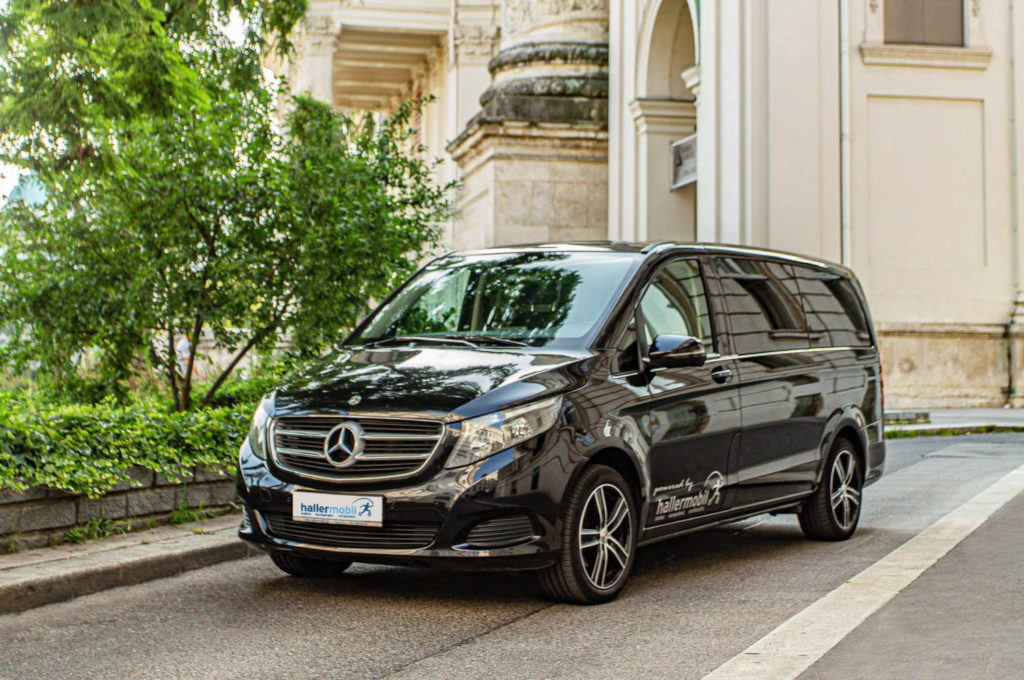 BARRIER-FREE MOBILILTY
Our specially adapted vehicles offer every passenger comfort and safety and our fleet is well equipped for people with reduced mobility. Driving services for those with wheelchairs or walking aids are one of our specialties. hallermobil drivers are experts who receive intensive specialist training in first aid, vehicle hygiene, and psychology in regard to adults and children with special needs.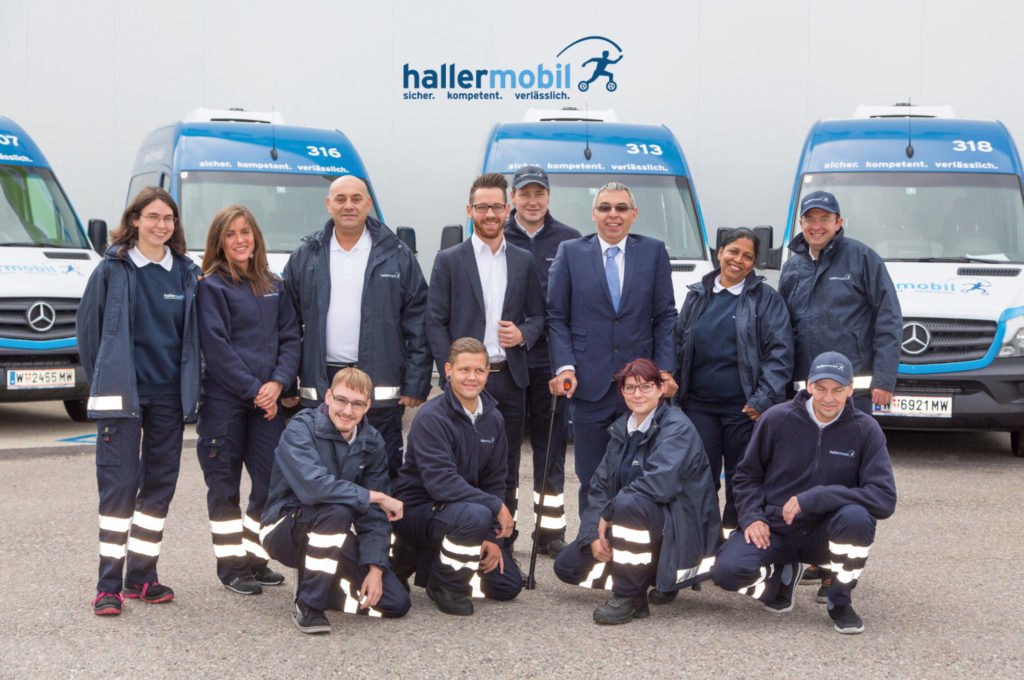 A COMPANY WITH EXPERIENCE
SAFE. CAPABLE. RELIABLE.
About hallermobil: We have been supporting people with special mobility needs since 1986. Disability, injury, illness and age can limit freedom of movement for many people. It is often no longer possible for them to travel independently by public transport. We are Vienna's premier transport providers for people with reduced mobility. Our special vehicles provide each of our passengers with the outstanding comfort and the highest safety standards.
Our drivers are experts who receive intensive specialist training in areas such as first aid, special vehicle hygiene, and psychology as regards adults and children with special needs.
Our motto is: nothing is impossible!
If you have any questions about our transport service, please contact us at any time. The hallermobil team looks forward to meeting you!
OVER 30 YEARS OF HALLERMOBIL
SAFE. CAPABLE & RELIABLE
OUR MISSION
SAFE. CAPABLE. RELIABLE.
Nothing is impossible. Under this motto, we have been providing expert support to people with special mobility needs since the foundation of our company in 1986. Hallermobil offers people with disabilities, injuries, illnesses or age-related restrictions complete and barrier-free mobility. We see it as our task to continuously improve our services in a sustainable manner. It is our declared aim to be the premier provider for people with temporary or permanent mobility impairments.
The hallermobil company sees itself as an indispensable and integral part of the social fabric of our society, providing barrier-free transfers to public transport and transport for those who cannot use it for the above reasons on the one hand, and private mobility services for those who do not have access to public transport on the other.
As a team, we gear our services to the needs of our customers. Many companies state that they adapt to the needs of their customers. "As a person with limited mobility myself, I really know what I am talking about and live and create barrier-free access wherever I can ", says Thomas Haller, Managing Director of hallermobil
Joie de vivre, verve and enthusiasm are our constant companions as we work. Quality and expertise are our unmistakable hallmarks. hallermobil employees therefore receive continuous training to turn them into experts. Experts who are our calling card and part of the Haller family. It is not only a matter of looking after our customers. We want you to feel protected by our professional team of experts. safe. capable. reliable.
hallermobil employees are our company's greatest asset. They enable us to provide the highest levels of customer service on a daily basis. The team consists of driving service experts and we are a reliable partner, both as an employer and a contractor. Our aim is to provide a high quality service in an empathetic manner.
We combine our values and success measures with an appropriately cheerful and humorous attitude to our daily work. We take a respectful and tolerant approach to everything we do. We enjoy working with each other and with our customers, because WE are capable of more than ME. We talk openly and honestly.
Proficiency and personal responsibility are a matter of course for us. You can rely on us – we have integrity. We want to be good ambassadors for hallermobil. Our leadership style is characterised by high-level social skills and professional expertise. Our targets are clear and realistic.
Our core competencies enable us to secure the necessary resources and deploy them efficiently. We motivate our employees through praise and recognition. We promote initiative within our team. We support each other to achieve our goals.
We aim to make innovation a living concept, and are keen to encourage our employees' ideas. We view continuing training and development as opportunities and factors for success. Taking responsibility, enhancing the region and making our contribution to an even higher quality of life is an essential part of what we do.
OUR TEAM
Friendly, dynamic, proficient and extremely reliable – this is the image of the hallermobil team, which has coalesced into a strong pool since the company was founded. In line with our motto "Nothing is impossible", our team does everything in its power to maximize the mobility of people with temporary or permanent restrictions.
Thomas Haller, founder and managing director of hallermobil, has had limited mobility since his childhood. He wants to use his experience to help people with special needs make their lives as free as possible. A passionate rider, Thomas Haller has taken part in the Paralympics five times.
Benjamin Haller joined hallermobil in October 2011 and took over the role of Operations Manager in June 2016. His commercial background means he delivers excellent performance in relation to his main responsibilities: budget planning, financial planning, pilot projects, goals & strategy, and organization. "I want to help and support people with reduced mobility, change the market, develop visions and ideas and put them into practice."
Our team of 250 employees and around 125 vehicles handles more than 2,000 journeys every day, circling the globe at least twice a week on behalf of our customers.
You have further questions about our services?

hallermobil is at your side for leisure trips, patient transport, spa and rehabilitation trips, messenger services, journeys to school, journeys to work and regular journeys, transfers to onward transport and a VIP shuttle service. If you have further questions about our transport services you can give us a call +43 1 869 62 62.
If you would like to get more information about our private data policy you can check out our website.
Getting to your Destination with hallermobil
Your mobility is our profession. No matter what route lies ahead of you, we will bring you safely, competently and reliably to your destination.